MOON announces the launch of The North Collection
On Wednesday 3rd May 2023, MOON proudly unveiled its new North Collection of truly exceptional high-end MOON products. 
This landmark range represents a culmination of years of research and development in the fields of audio, electronics, materials, and manufacturing processes. 
The North Collection comprises of the following six products:
The 761 and 791 will start shipping in October, the 641 and 681 in November and the 861 and 891 from December.
MOON's new stunning intelligent remote control, the BRM-1, is included with the 641,681, 791 and 891.

The first public viewing will be at the Munich High End Show 2023.
The North Collection embodies the spirit of Canada, each product reflecting the company's passion for premium audio design and exceptional sound reproduction, delivering features and performance that will delight music lovers around the world.

MOON 641 Integrated Amplifier
M-VOL3 for precision analogue volume control
MDCA - MOON Distortion-Cancelling Amplifier
125 watts into 8-ohms and 250 watts into 4-ohms
BRM-1 Intelligent remote-control.  Touch controls, visual feedback, and lavish refinement.
MOONLink. Network connection with other MOON products for full system control
MOON BRM-1 Intelligent Remote Control
MOON 681 Network Player / DAC 
MHV - MOON Hybrid Volume technology
MDE1 - MOON Digital Engine 1. With advanced FPGA control
MOON MiND streaming. With Qobuz, AirPlay, Tidal, Deezer, Roon and 'Connect' options including Spotify
BRM-1 Intelligent remote-control.  Touch controls, visual feedback, and lavish refinement
MOONLink. Network connection with other MOON products for full system control
MOON 761 Power Amplifier
Advanced MDCA - MOON Distortion-Cancelling Amplifier
Two custom low-noise 700 VA transformers with 152000 uF of capacitance and superior-quality semiconductors
Dual-mono amplifier generates 200 W per channel into 8 ohms in stereo, doubles into 4 ohms. Bridged operation drives 600 W into an 8-ohm load as a monoblock 
Subtle LED indicator for refined feedback of amplifier status
MOONLink. Network connection with other MOON products for full system control and firmware updates
MOON 791 Network Player / Preamplifier
M-VOL3 for precision analogue volume control
4.3" Full colour OLED screen for music artwork display and menu driven setup
Advanced MDE2 - MOON Digital Engine 2. With advanced FPGA control
MOON MiND streaming. With Qobuz, AirPlay, Tidal, Deezer, Roon and 'Connect' options including Spotify
BRM-1 Intelligent remote-control.  Touch controls, visual feedback, and lavish refinement
MOONLink. Network connection with other MOON products for full system control
MOON 861 Power Amplifier
Reference MDCA - MOON Distortion-Cancelling Amplifier
Two 1,500 VA low-noise MOON transformers and 228,000 uF capacitance with unwaveringly stable thermal equilibrium
Dual-mono amplifier generates 300 W per channel into 8 ohms in stereo, doubles into 4 ohms. Bridged operation drives 800 W into an 8-ohm load as a monoblock
Subtle LED indicator for refined feedback of amplifier status
MOONLink. Network connection with other MOON products for full system control and firmware updates
MOON 891 Network Player / Preamplifier
M-RAY2 volume control, featuring discrete resistors
5" Full colour OLED screen for music artwork display and menu driven setup
Reference grade MDE3 - MOON Digital Engine 3. With advanced FPGA control
MOON MiND streaming. With Qobuz, AirPlay, Tidal, Deezer, Roon and 'Connect' options including Spotify
BRM-1 Intelligent remote-control.  Touch controls, visual feedback, and lavish refinement
MOONLink. Network connection with other MOON products for full system control
MOON Damping Base - mechanical system to suppress parasitic vibrations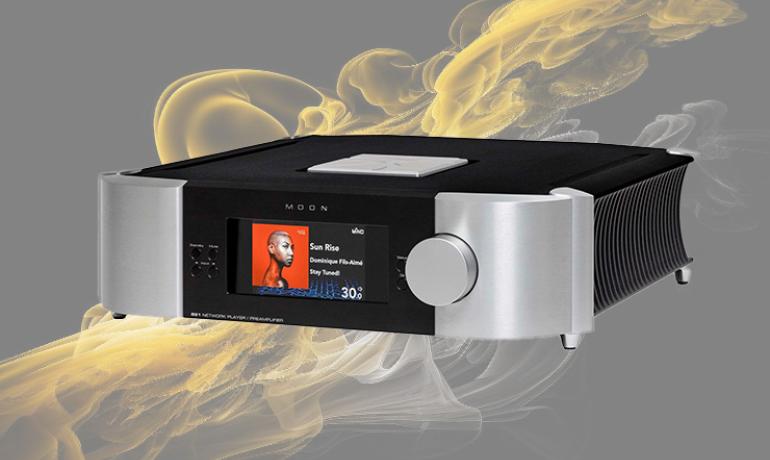 Network Player / DAC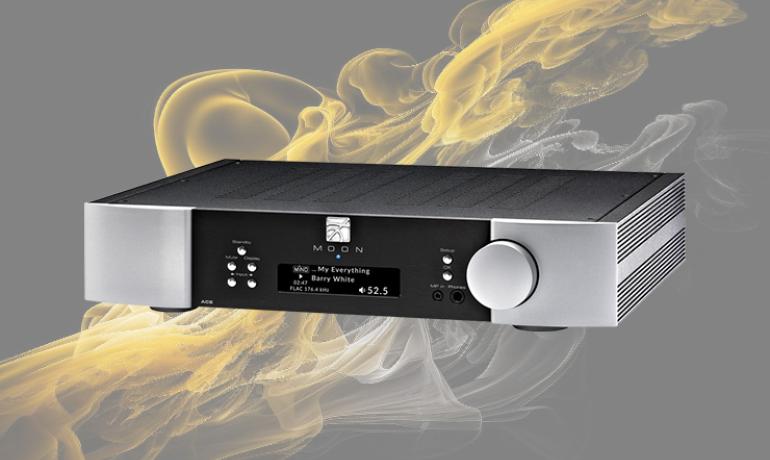 All-In-One